Corporate Social Responsibility
Being in the health care field we see every day the impact and hardship some less fortunate families and individuals are facing. We are honoured to be able to use our abilities, and know how to help as many of the less fortunate as we can.
We are directly involved in many small scale projects or individual cases.
For bigger projects we are proud to partner with two international active organizations in the hearing field; the right-to-hear foundation of Switzerland and the Starkey Hearing Foundation.
THE STARKEY HEARING FOUNDATION
The Starkey Hearing Foundation is associated with the Clinton Global Initiative and has committed to give away 1,000,000 free hearing aids to poor hearing impaired people globally this decade. So far about 470,000 free hearing aids have been distributed in more than 100 hundred countries.
Starkey Hearing Foundations mission, "So the World May Hear," is about bringing understanding between people through caring and sharing. We believe caring develops trust and by sharing we find our humanity. We believe by growing engagement in this cause that we can increase tolerance and respect for life.
Our goal is to pursue our mission with commitment so that future generations can live in a world with more caring and peace.
The Hearing Solution Group is Starkey Hearing Foundations partner for Indonesia; in 2015 we gave away more than 4,000 hearing aids and helped more than 2,000 individuals to hear better.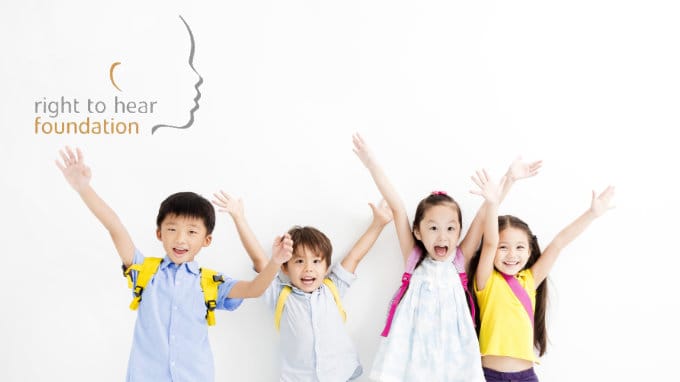 RIGHT-TO-HEAR FOUNDATION
The Right to Hear Foundation plays an active role in the fate of children with hearing difficulties in newly industrialized and developing countries and implements projects to ease their integration, to provide them with equal opportunities and an unlimited future.
Children who are profoundly hard of hearing are dependent on experts from a wide range of fields – for correct diagnosis of the hearing defect, precise audiological findings, correct adjustment of hearing aids or cochlear implants and professional speech therapy. In newly industrialized and developing countries this is beyond the financial means of affected families, and also that of the education and health systems. The Right to Hear Foundation provides help in carefully selected cases.
The Hearing Solution Group is r-t-h foundations partner in SEA. Together we implemented several programs; distributing free FM-Systems to local schools, establishing a habilitation centre in Jakarta and establishing a low cost loan program for Cochlear Implant users together with BNI (Indonesian National Bank).